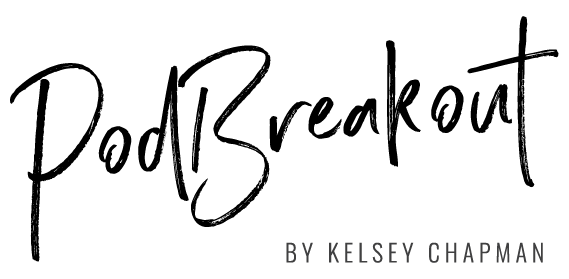 EVERYTHING YOU NEED TO BUILD THE THRIVING, SUCCESSFUL PODCAST YOU'VE BEEN DREAMING ABOUT
YOU'VE GOT A PASSIONATE VOICE AND SOMETHING TO SAY

And you're ready to get it out there in the world.
You've been dreaming about launching your own podcast but you're filled with questions…
What should I talk about? How do I find guests? What gear should I use? How can I get paid for this?
Where do I even begin?
I've been hosting my own successful show, the Radiant Podcast, for the last two years. I've gone through ups and downs as I've learned it ALL, and now I want to teach YOU the ropes.

Ready to turn on the mic?
RESULTS FROM PODBREAKOUT ALUMNI
Get inspired… this could be you!
I really appreciate the short bites of video that kept me feeling like I was progressing and will make it super easy to go back to parts I need to review as I set my podcast up. I also love that you shared your workflow - you know I nerd hard on behind the scenes!!

Kelsey's course was a GEM! I had no idea where to start with launching a podcast and all my q's were answered plus more! Having her support made the launch easy breezy and I'd recommend it to anyone considering launching a show!!

DO I REALLY HAVE WHAT IT TAKES?
If I can do it, YOU can. Two years ago, I started my podcast with just a pair of headphones, my laptop, and a message burning in my heart. Within a year, I hit 100K downloads!
You don't need the fanciest equipment, the biggest bank account, or a high follower count on social media to build a successful podcast that people love listening to.
All you need is grit, determination, a passion for talking, and a willingness to have FUN as you learn and build your show!
If you've got that, I'll bring ALL the rest.
Kelsey breaks down everything there is to know about podcasting in such a practical way that is easy to follow and implement. Before reaching out to Kelsey, I had spent days trying to learn how to create a podcast. I was totally overwhelmed and had no idea where to start.
After reaching out to Kelsey, I had the Chosen To Reign Podcast live in less than 24 hours! She goes over and beyond to serve her clients and this podcast course is no exception. I highly recommend you purchase anything with Kelsey Chapman's name on it!
7 amazing course modules filled with approachable strategies you can feel totally confident putting into action

35+ easy-to-follow instructional videos - no more mysteries holding you back from creating a successful show!

Links to my favorite podcast equipment

Access to our private Facebook group for students just like you

Email updates whenever there are changes to the best podcast practices. That's right, you'll never be out of the loop once you take PodBreakout!
Choosing a topic and title, where to find background music, how to create cover art, and more
Building your brand story, finding your voice, and my best batching + scheduling tips
MODULE 3: SHOW SUBMISSION
How to set up your show and submit to Spotify, Stitcher, and Google Play
MODULE 4: LET'S GET TECHNICAL
My favorite podcast equipment, how to record on Skype + Quicktime, how to edit your podcast, how to book guests, and the ultimate podcast workflow
MODULE 5: LAUNCHING YOUR PODCAST
Defining your ideal audience, hosting a launch giveaway, and getting on New and Noteworthy
MODULE 6: ONGOING PODCAST PROMOTION
Pitching your show, following up with guests, social sharing, and asking for reviews
How to diversify your income streams and gain more clients with your show


Two years ago, I started my show, The Radiant Podcast with a few basics: my laptop, some headphones, and a message I couldn't stop talking about.
In just one year, I hit 100K downloads, forged stronger connections with my audience than ever before, saw more clients convert as a result of listening to my episodes (and the episodes I was a guest on), and paved the way for my first contract with my literary agent.
I created PodBreakout to help you start the successful show you've envisioned, without getting stumped by all the technology issues and roadblocks that could arise in the process! I've put everything I've learned about podcasting into ONE easy, breezy course to help you bring your dream to reality. And trust me when I say I've left NOTHING out.
You get it ALL. No holds barred.
I've done it all, seen it all, and fought through it all so you won't have to play the guessing game.
I can't wait to see you in class!
JOIN OTHER INCREDIBLE INFLUENCERS, CREATIVES, AND ENTREPRENEURS IN THE PODBREAKOUT COMMUNITY
Don't wait another day! You could launch your new podcast in as little as month!
BOOM. DROP THE MIC.
ACCESS TO THE FULL ECOURSE
7 modules, 35+ video walkthroughs, links to my favorite resources, and access to our private peer-led Facebook group
Considering starting my own podcast was so daunting! Kelsey broke everything down into perfect detail and now I am empowered with the information and knowledge I need to start planning my podcast launch.  If it weren't for this course, I would be completely lost and probably would have given up on the idea.

Kelsey's teaching approach is clear, concise, and connects you to the main hurdles in your business or creative pursuits and helps you overcome them. She's the mentor you've always wanted but never found yet, until now!

FREQUENTLY ASKED QUESTIONS

This course is for makers, creators, bloggers, influencers, entrepreneurs, AND brick and mortar business owners alike! If you have a message you want to amplify and you're ready to learn how to podcast a total BOSS, I'd love to see you in class!
That depends on you. This course requires effort and intentionality on your part, so you need to be willing to step up and show up to see results. If you're looking for easy, overnight success, this course isn't for you.
Yes! I know you're a busy bee, so I've made it simple for you: log in and complete lessons as you have time in your schedule. This means you can NEVER fall behind in curriculum or lose access to the course. You'll have it for life!
YES! I'll walk you through every step - from choosing the right equipment to recording on your computer to editing a show that you're proud of!
Each video lesson is about 2-3 minutes long, except for a few that are a little bit longer. You can easily knock this course out in a few hours or break up the modules up over the course of a week! Your pick. Either way, the information is clear and concise so that you can get this party started!
Why wait a second longer?
Gain momentum and start your podcast NOW!